Wedding at River Rock Inn Rockland :
Mel & Pat -July 24th 2010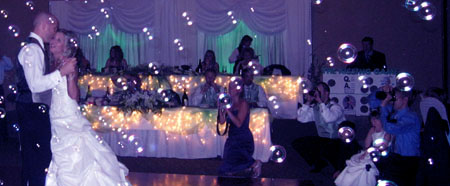 NEW* →Ottawa Wedding Planner Services.
We just wanted to take a minute to thank you and your team at Ottawa DJ Service for the amazing night we had yesterday. The service exceeded our expectations. SpinDaddy was an awesome DJ and his assistant Natalie was a great help organizing everything with our MC. The DJ kept everybody dancing the entire night even Mellissa's 87 year old grand mother in a wheelchair spent most her night on the dance floor. Thanks again for everything.

Pat and Mell - River Rock Inn Wedding in Rockland
July 24th 2010

Mel and Pat! Wow you guys were awesome! This was definitely one of our most fun and exciting weddings this year.. DJ SpinDaddy and I had a blast working for you.

Below is a video highlight of your special River Rock Inn evening.

Natalie & DJ SpinDaddy
Ottawa DJ Service
River Rock Inn Rockland Wedding - Video

Situé au bord de la rivière Ottawa, Le River Rock Inn vous offre un charme intime et pittoresque pour tous vos évènements. Contactez-nous au events@riverrockinn.ca

(613) 446-6710
→Visitez le site du River Rock Inn.

Ask about our DJettes (female DJs...)
Book in advance as they are in high demand!