Black Light Party Ottawa-Sprosh Week 2010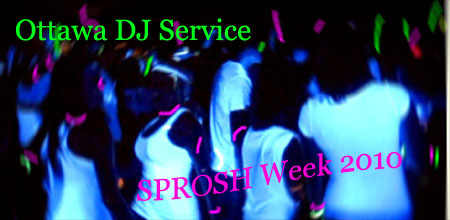 "September 6th 2010

Congratulations to the SPROTT School of Business for organizing such an amazing black light party! Special thanks to Chris Phounsy - Your the best!

Here is a video highlight of you guys line dancing to your theme song "We no speak Americano".

DJette Sarah and DJ SpinDaddy
Ottawa Blacklight Party Video - Sprosh 2010
"DJette Sarah and DJ SpinDaddy, thanks for re-igniting my flame for clubbing. I haven't really gone out for three years but your DJing was SO AWESOME I think I'm gonna start going out again!"- Sprosh Manager

"...best DJs we ever had at any of our events....Thanks for giving us the best Sprosh Orientation Week Party ever!"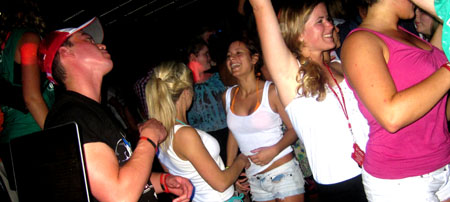 "YOU GUYS ARE WAY BETTER THAN MUCH MUSIC VIDEO DANCE DJS!"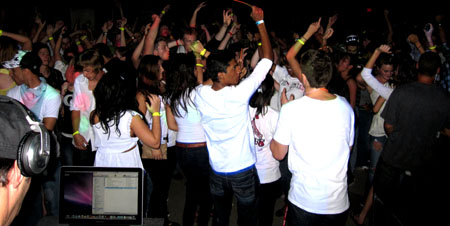 "siiiiick show at sprosh, dope mixing bro"
Ottawa Glow Products-Glow Sticks, Glow Bracelets & Necklaces and Glow Paints.
Ottawa Black Light Parties with Glow Sticks
*Ottawa DJ Service offers a full range of Black Light Party Solutions in the Ottawa Gatineau area. If you are looking to stage a blacklight party in Ottawa, you have found the right place.
*We offer discounted rates on glow products to our clients. Glow products range from, Glow Sticks, Glow Bracelets, Glow Necklaces and Glow Paints. Our Ottawa Glow Products are available stand alone or can be combined with other service packages for additional discounts.
*UV Canons (400W) make up the work horses of our fleet of UV Lights or black lights. Contact us and we can recommend the best black light configuration for your party.
→Read about our customer service guarantee.

Ask about our DJettes (female DJs...)
Book in advance as they are in high demand!