Ottawa DJ Reviews - DJ Reviews Ottawa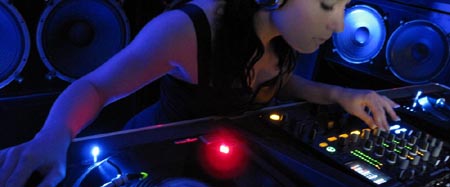 Thanks for the awesome job DJing our wedding!
"We knew it would be a successful event during the booking process where you spent time getting to know us and our audience's music tastes. This preparation made us comfortable and ensured that everyone danced all night! The sound was fantastic even in the cavernous space of the Aviation Museum. We will recommend you with no hesitation."

"The lasting memory we will have is at 1am - the lights go on - and the remaining guests are ALL on the dance floor - no one sitting, or talking, or even getting a drink! And the DJs played for another half hour while we danced and the cleanup went on around us."

Thanks again! John & Katy
---
Ottawa DJ Service made our night!
I just wanted to tell you how impressed Laure and I were with the service you and your DJ staff provided for us last night. The music was amazing, the DJ's were so friendly and on top of all changes. I couldn't believe how alive the dance floor was all evening. I truly believe your DJ services made our night that much more special and I thank you from the bottom of our hearts.

Cameron and Laure! :)
---
The DJ service exceeded our expectations!
We just wanted to thank you and your team for the amazing night. The service exceeded our expectations. SpinDaddy was an awesome DJ and his assistant was a great help organizing everything with our MC. The DJ kept everybody dancing the entire night even Mellissa's 87 year old grand mother in a wheelchair spent most her night on the dance floor. Thanks again for everything.

Pat and Mell
---
Everything we asked for – and more!
We would like to thank everyone at Ottawa DJ Service for making our wedding reception such a memorable and successful evening! Your services exceeded our expectations. Everything we asked for – and more! – was provided: a bilingual DJ and MC as well as a great selection of songs, which included a lot of rock, just as we had asked. We will definitely be recommending your services!

Thanks! Anik & Chris
---
Best Club DJs In Ottawa!
We had a amazing time at our Pub opening. DJ Spindaddy from Ottawa DJ Service knew exactly how to turn this event into a huge success. Young and Old are still raving on the Ottawa Club Zone DJ's performance.

Thanks
River Pub, Lefaivre, Ont

---
Attentive to your religious concerns, you saved our Party!
"I would definitely recommend this service to ANY one I know. They are understanding and professional and do their BEST to meet your requests. Hosting a party is no doubt, a stressful task. When I was in a crunch for time, Ottawa DJ services rescued me from what could have ultimately been a night of disasters. I am so grateful, words can not express. Everyone had an AMAZING TIME! So once again for the BILLIONTH time; Thank you guys for being my knight and shinning armor. No one would have complimented my efforts if it weren't for you guys! I definitely will be doing business with you guys again! "

-Khadija for All Girl Prom Party 2010
---
Simply the best Ottawa DJ Company!
"We hired Ottawa DJ Service for our Christmas Party. The DJ was excellent and had pretty much everyone dancing until the wee hours of the morning. He will spend time with his clients to ensure the style of music is suitable to them and he likes to get to know the clients. On-site he is extremely professional, doesn't speak unless he's been asked to and is very accommodating. I highly recommend him for any event due to his ability to work closely with his clients to ensure a perfect event.

Please feel free to pass his name along to any of the other convention managers. Thanks for a great party!"

Nicola
---
Ottawa's Five Star Entertainment Provider!
"I just want to thank you again for pulling together what I feel was the best evening! Your music selection and experience was terrific to has as a part of our night! We will recommend you to everyone!"
Rylea & the grad committee
---
Best Ottawa Stag & Doe Ever!
"Just wanted to thank you so much for your DJ services at our Stag & Doe last weekend. We heard nothing but good things for the music that night. Thank you for the amazing job well done and we are looking forward to seeing you again in July for the wedding. Thanks again!"

Katrina & Dave

---
Les meilleurs DJ à Ottawa!
"Juste un petit mot pour te dire combien tout le monde t'a apprécié vendredi passé! Je n'ai eu que de bons commentaires. Le fait que tu semblais « être dedans » autant que nous était super tripant.

En passant, ne te gêne pas pour donner mon nom si des gens veulent des références, ça me fera plaisir de leur dire combien ton professionnalisme et tes compétences ont fait que notre party ait été réussi!"

Monique
---
Ottawa's Prestige DJ Service -Very Classy
"I just wanted to thank you so much for a great job last night! The compliments were flying and, even though the crowd is obviously getting older and calling it quits earlier, everyone had a fantastic time. I promise I will get in touch earlier to reserve you for next year - you are definitely hired again!

Have a Very Merry Christmas and a fantastic, happy, healthy, prosperous New Year!"

Aimée
---
Ottawa's Best Wedding DJs!
"Many thanks for the pictures and great work on Saturday night. As a result of your services Amanda, myself and all of our guests had a fantastic night. "

Cheers! - Ben.
---
Ottawa's Premier DJs - Bravo!
"Ben and I are very pleased with your services and will not hesitate to recommend your company to people in the future"
Thank you.
Emily

---
The #1 DJ's in Ottawa!
"Thanks for your help. Everything worked out great and the party was a big success! "

Thanks,
Magda
---
Quality Entertainment at a great price!
"Thanks again for the wonderful evening. You guys always know how to get our party going. See you again next year."

Jeff
---
DJ's with community spirit!
"First off I would like to thank you for the impact your crew made at the Youth Council Event. The kids and the youth had a wonderful time. When I looked over yesterday and seen the way they were all enjoying themselves at your station singing, and mixing it was wonderful. I hope to be seeing you again, although I'm sure we will. They loved you. Thank You!

Tina
---
→Check availability & obtain a quote.
→Read about our customer service guarantee.
Read more about our Ottawa DJ Company here.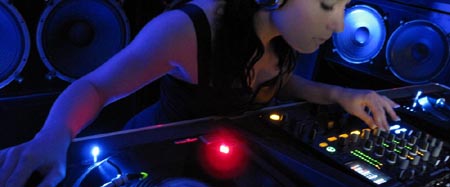 Ask about our DJettes (female DJs...)
Book in advance as they are in high demand!