Ottawa Corporate Events Planners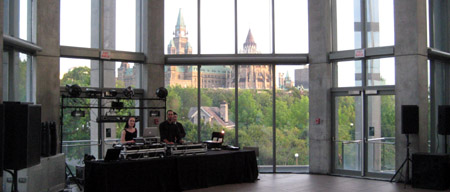 If you are celebrating sales success for you business or just having an office party, Ottawa DJ Service is the service for you!
Ottawa DJ Service is a leading provider of Corporate Events Planning in the Ottawa area. Our Ottawa event planners can help you make your corporate event a success to remember.
We have a great professional light show and sound system. Ottawa DJ Service can also supply a wide range of audio visual rentals (from complete projections systems, to podiums, to truss lighting decor etc.) as well as public address systems.
Got a company song, no problem, if we haven't got it we'll get it. Ottawa DJ Service will help you make your corporate event a memorable success.
NEW* Looking to rent equipment such as a podium, public address sound system and microphone for your upcoming press conference in Ottawa?

Ottawa DJ Service now offers conveniently priced press conference equipment rental packages in the Ottawa-Gatineau area. Let us help you make your press conference a resounding success!
---
Gold Package - Ultimate Reception Services $800.00
Total Sound, Lighting, and DJ Experience.
Up to 9 hours of continuous DJ Services
Pro sound system for up to 400 guests
Advanced Lighting and trussing
Wireless Mic for MC/Party hosting
Complete music set (33,000 + tracks)
Interactive-style DJ-format

Silver Package - Standard Reception Services $650.00
Corporate Kick-offs, year-end and cognition parties
Up to 7 hours of continuous DJ Services
Pro sound system for up to 200 guests
Advanced DJ Lighting effects and choice of: haze/smoke/bubbles
Wireless handheld microphone
Complete music set (33,000 + tracks)

Bronze Package - Basic Reception Services $550.0
Office socials & corporate receptions for smaller crowds
Up to 6 hours of continuous DJ Services
Pro sound system for up to 100 guests
Standard DJ Lighting effects
Wired handheld microphone for MC/podium
Complete music set (33,000 + tracks)
Value Added Extras:
-Extra DJ service hour - $50
-Sub reinforcement sound system - $50
-Standard wired microphone - Sure $15.00
-Additional PA for 2nd room $75.00
-Wireless Handheld, lapel pack, headset microphone $50.00
-Curved Truss podium $50.00
-Specialized lighting or effects (Per fixture) $50.00
-Complete Projection (Projector, screen, laptop/DVD) $250.00
-Performer Patch-in: 12-ch. Mixer, 3 mics & stands $60.00
-Pro DJ spinning Vinyl on SL1200 Turntables $200
-Extra Event Preparation Meeting $25.00
Specialty Options:
-Custom LED Up-lighting decor schemes starting at $300.00
-Bubble Machine Party Rentals $60.00
-Dry Ice Low-Lying Fog: Dancing on a cloud - $120
-Programmable Animation ILDA Laser $300.00
Approximate Generator Rental Prices:
-DJ system $50-100/day
-Live band $100-200/day
-Carnival-Festival $500-1000/day
-Convention $3000-8000/day
→Check availability & obtain a quote.
→Read about our customer service guarantee.

Ask about our DJettes (female DJs...)
Book in advance as they are in high demand!