Ottawa Outdoor Volleyball Beach Tournament at Petrie Island - "OOVB Petrie Open 2010"

"August 29th 2010
Congratulations to the Ottawa Outdoor Volleyball League for organizing such an amazing tournament at Petrie Island Beach. DJ SpinDaddy and I, had a blast spinning out the tunes during the event. congratulations to all the winner and see you next year! Below is the video highlight. "
DJette Sarah and DJ SpinDaddy
Music was excellent. Now if I could only find out where you got the amazing "Bullet Proof" and "Empire State of Mind" remixes !! ;)

Ottawa Beach Volleyball Video
"I had such a fun time playing volley ball on the beach today" said Julie, on of the tournament's registered players. "I came here not knowing anyone and ended up meeting a bunch friendly people. Thanks to Ottawa DJ Service for providing the great music – It was a bikini fun day in the sun!"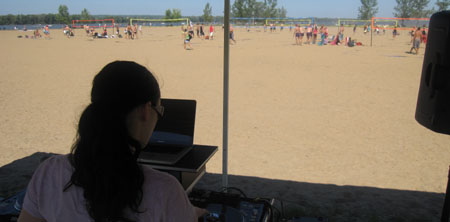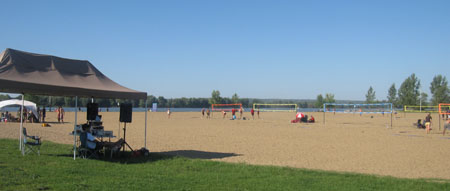 Petrie Island Beach Volleyball Tournament
The Ottawa Outdoor Volleyball League OOVB is a non-profit organization. Join the fun and come make some friends! click here.
→Read about our customer service guarantee.

Ask about our DJettes (female DJs...)
Book in advance as they are in high demand!