Ottawa Wedding Lighting Decor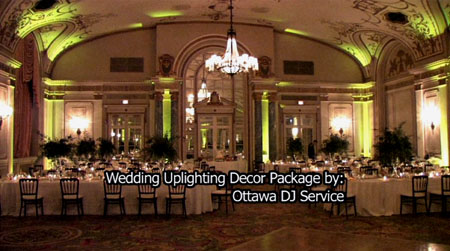 OTTAWA EVENT LIGHTING REVIEWS:
-"Thanks for all your help with the outdoor tent party decorations for our 50th anniversary party. Gerald & Estelle
-"Wow! Our wedding reception venue was transformed into the fairytale wedding I always dreamt of. Combining the DJ service and professional wedding lighting décor not only saved us a lot of money but also gave us the peace of mind that everything would be perfect". Sylvie & Mark
VALUE ADDED DIFFERENCE:
***You can choose to have the lighting fixtures gradually flood the room in different rich and warm ambient colors. This effect dramatically changes the room's atmosphere. You can also choose a specific color to match your particular wedding theme.
Please note that unlike caterers/decorators who provide similar event lighting décor services, Ottawa DJ Service specializes in choreographing live music with lighting with to create the most magical events. Our DJs and lighting technicians can manipulate the lighting via DMX controllers to achieve your specific desired effect.
NEW- ILDA Programmable Lasers for rent in Ottawa.
→Click here to check availability.
→Review our Party Tents & Rentals Packages.
WEDDING UP-LIGHTING DÉCOR:
Up-Lighting fixtures give you the ability to throw columns of light upward towards the ceilings. By strategically placing the fixtures around the room, you can create pillars of light that will both wash the walls as well as the ceiling with a rich colors pallet (ambient lighting). You have the 2 installation options:

Static Color Themes: fixtures are programmed to match your event's specific color theme.
Up-Lighting - 6 Fixtures $300.00
Up-Lighting - 12 Fixtures $500.00
Up-Lighting - 18 Fixtures $800.00
Up-Lighting - 24 Fixtures $1000.00
Controlled via DMX : Fixtures are then linked to a DMX controller giving the DJ and lighting technician the ability to choreograph the lighting with the music and mood of the event (gradual color wash programs during the dinner and cocktail vs sound and beat activated programs during the dancing portion of the event).
Up-Lighting - 6 Fixtures $360.00
Up-Lighting - 12 Fixtures $620.00
Up-Lighting - 18 Fixtures $980.00
Up-Lighting - 24 Fixtures $1240.00
---
→Click here to check availability.
*Our Ottawa wedding lighting decor rental packages or Ottawa event lighting packages can be purchased standalone or combined with our other services packages.
**Please consult our lighting technicians to determine the best Ottawa Wedding Lights or Ambient Lighting Decor solution your wedding or any event.

Ask about our DJettes (female DJs...)
Book in advance as they are in high demand!